Jay Anstine
Lecturer in Law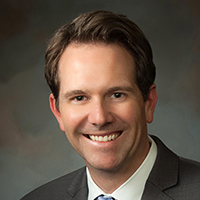 Jay Anstine is the president of Bluebird Healthlaw Partners. As a health care lawyer specializing in regulatory compliance, he consults to physicians, senior management and boards of directors on compliance programs and regulatory issues impacting operations.
Jay's professional background includes working on the provider and the payer side of the market, for large for-profit and nonprofit health systems, and small physician-owned entities. In tackling the countless regulatory and operational issues for these diverse organization types, he has developed a deep understanding of the business of health care and the regulations that govern the industry.
Jay obtained his law degree from the University of South Dakota, where he focused exclusively on health care law. From 2012-2016, he was on the board of directors for ClinicNET, a nonprofit organization in Colorado that cares for the medically underserved. He is also a member of the Health Care Compliance Association, serving on the planning committee for the Mountain Regional Conference.